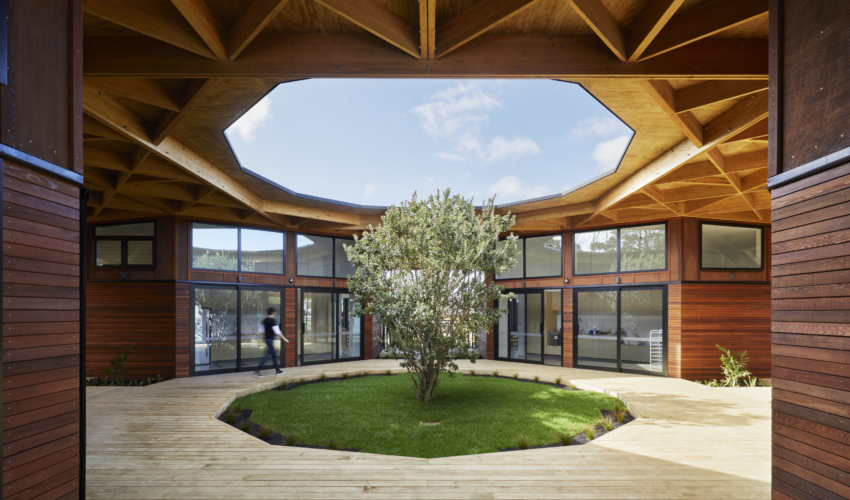 Timber design is known to create a feeling of connection known as biophilia. The biophilia hypothesis suggests that humans possess an innate tendency to seek connections with nature and other forms of life. Edward O. Wilson introduced and popularized the hypothesis in his book, Biophilia (1984). He defines biophilia as "the urge to affiliate with other forms of life".
Biophilic design can be used whether it's a home, office, healthcare or education environment, the benefits are clear. Timber Structures create relaxing atmospheres with improved concentration, reduced stress and increased productivity.
More and more designers are turning to natural resources for their structures, creating healthier spaces, that not only have benefits to the occupants, but have structural benefits too.  Engineered Timber is very efficient to produce. The energy required to produce a glue-laminated beam from the log is only a fraction of the energy required to produce steel or concrete. Glulam has superior earthquake resilience and greater resistance to fire than any other structural construction material. Design using engineered timber is more flexible, creating different and one-of-a-kind structures.
Timber design has risen in recent years, with schools, healthcare and childcare facilities among the most popular using timber as it encourages a relaxing atmosphere and increases the wellbeing of the residents. Absenteeism is said to reduce when work environments include timber, productivity is boosted, and the overall atmosphere is more uplifting.
Although an indoor environment can't replace the experience of the natural world, using nature in design elements, whether it be sunlight, plants or organic materials contributes to the improved human experience.
Biophilic design has been around for centuries, with its use of natural elements, such as exposed wood and utilisation of natural light becoming more and more common in today's structures, it creates a warm and natural aesthetic supported by its healing influences.
Techlam are involved in a number of significant engineered timber projects across NZ and Globally, and our team have the passion and experience to bring value to any structure.