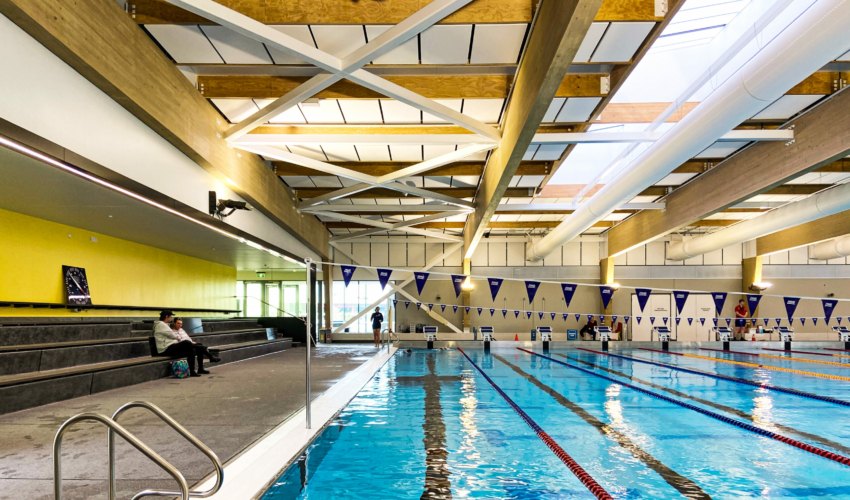 The Selwyn Aquatic Centre in Rolleston, Canterbury was recently expanded to better serve the needs of the fast-growing community. The extension created space for a 10-lane, 25 x 25m swimming pool, which alongside the existing leisure pool, learn-to-swim pool and hydrotherapy pool, results in a cutting-edge aquatic facility. The size of the extension meant smart structural timber solutions were needed, with Techlam tasked with providing 30m-long glulaminated timber roof beams for the project.
"Techlam were used due to the size of the operation and their capabilities in delivering large beams," says Kirill Makogon, Project Manager, Armitage Williams Construction. "They delivered beams that are 30m long by 1.4m wide, which were delivered in one piece on specialised trailers."
The beams were manufactured off-site with complex connections incorporated into the timber. To achieve this, Techlam worked closely with steel fabricator, VIP Steel. "There was a lot of collaboration between Techlam and the steelwork fabricator who were sending components from Christchurch to be incorporated into the timberwork at the Techlam factory in Levin," explains Kirill. "It was a smooth process for us to oversee as a main contractor."
"There's obviously a time saving factor for us as a main contractor and client to be able to continue with construction and have these units made off-site," says Kirill. Using prefabricated elements ensured close control of the construction programme, with the beams and other glulam components delivered only when the site was ready. As connections had already been pre-fitted offsite, installation was swift, resulting in time and cost savings.
Support from the Techlam team from specification through to construction helped the project run smoothly. "Techlam were just fantastic," says Kirill. "There was good communication and they provided solutions to any sort of issues we came across. As a main contractor, they're a great team to work with."
Selwyn District Council facility manager and staff have provided positive feedback on the beams. James Richmond, Manager – Active Selwyn says: "The Techlam roof beams bring a natural warmth of timber to the facility. As operators, functionality is our main concern but this product also looks great as well as performing well in a harsh pool environment, they tick a lot of boxes for us."
The final result is the testament to the collaboration of all parties — lead architect Alex Head and practice, Warren and Mahoney, engineers Holmes Consulting, main contractor Armitage Williams, and the teams at VIP Steel and Techlam — who together were able to deliver a stunning state-of-the-art facility.
Credits:
Project: Selwyn Aquatic Centre, Rolleston
Client: Selwyn District Council
Lead Architect: Alex Head
Architecture practice: Warren and Mahoney
Engineers: Holmes Consulting
Main Contractor: Armitage Williams
Republished from EBOSS