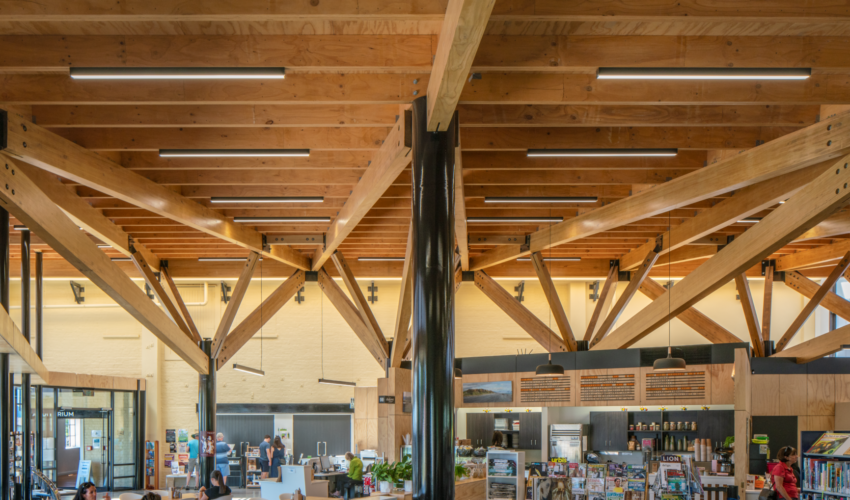 As a company, We're committed to continuing to reduce our impact on the environment, with continued research into how we can improve our products and make them more environmentally friendly.
We offer prefabricated solutions that reduce on-site construction waste. Resulting in fewer tools, less labour and reduced time on site overall to keep construction sites tidy and ensure that any wastage can be disposed of responsibly. Aside from being an efficient building material, glulaminated timber has a positive environmental impact by storing carbon throughout its life and improving the wellbeing of the people living or working in timber structures
Techlam has recently completed work on an Environmental Product Declaration that covers the complete life cycle of our products. Covering the entire process and the environmental impacts at every stage helped us to see where we can make improvements and what is needed to reduce the overall environmental impact of our Glulaminated timber products. More and more projects are focusing on the environment, whether they're designed to comply with the Living Building Challenge, Greenstar or Passive House Techlam can help you achieve those results with sustainably sourced timber and efficiently manufactured glulam.
Innovations in mass timber, notably the production of engineered products such as Glulam, CLT and LVL, have brought the reality of carbon-neutral construction attainable on a large scale. When trees are harvested and replaced, mass timber can sequester more carbon during their growth than what's emitted to manufacture, transport, and used during construction stages. Increased demand for sustainably sourced timber is assisting with reforestation.
CLT panels can replace steel decking and concrete floor slabs in commercial structures, and glulam columns can take the load of mid-rise and high-rise structures from their steel and concrete counterparts. These timber products can also be efficiently designed to be fire-resistant and fast to assemble.
Provided engineered timber remains in service and is prevented from decomposing, it infinitely sequesters carbon.
The table below shows the significant difference between engineered timber and steel/concrete
| | | |
| --- | --- | --- |
| Construction Material | gms CO2 / kg | kg CO2 / M3 |
| Glulam | -1141 | -479 |
| 30 Mpa Concrete | 159 | 376 |
| Structural Steel | 1242 | 9749 |
The durability of engineered timber is ensured given that it is protected from water, insect, or fungal infiltration through the use of treatment where required and with good design and detailing of the building envelope. To be reusable, timber members should be assembled with removable fasteners.
Recently Techlam has supplied engineered timber to Green School New Zealand. This project had minimal waste, and project stakeholders took every measure to ensure the environmental impact was minimised, from the timber treatment right through to the packaging used, creating a sustainable structure that will benefit students for many years to come.
The bulk of the classrooms are constructed from sustainably milled timber, treated with an environmentally preferred treatment. Techlam packaged their products with fully recyclable timber wrapping and as well as prefabricating all components, ensuring minimal time and wastage on site.
Green School is a work of art, using the most sustainable and innovative materials that create a safe and comfortable atmosphere.
Consider engineered timber as a great way to ensure a sustainable and environmentally friendly outcome that is beneficial to all.