Kia Ora,
At last! it's great to see some improvements in the weather as spring has sprung.
We've been busy working on many upgrades throughout our factory over the last few months. The team have just finished the installation of 2 new gantry cranes, with lots more planned in the coming months.
It was awesome to have the whole team together for our team day this week. The Boomrock Lodge in Wellington definitely put it on for us, read on to see what we got up to.
I hope you enjoy our updates in this issue, and if you've got any suggestions for up-coming editions of TechTALK we'd love to hear from you.
Keep working hard – kia pai tō mahi!
Brett Hamilton – Managing Director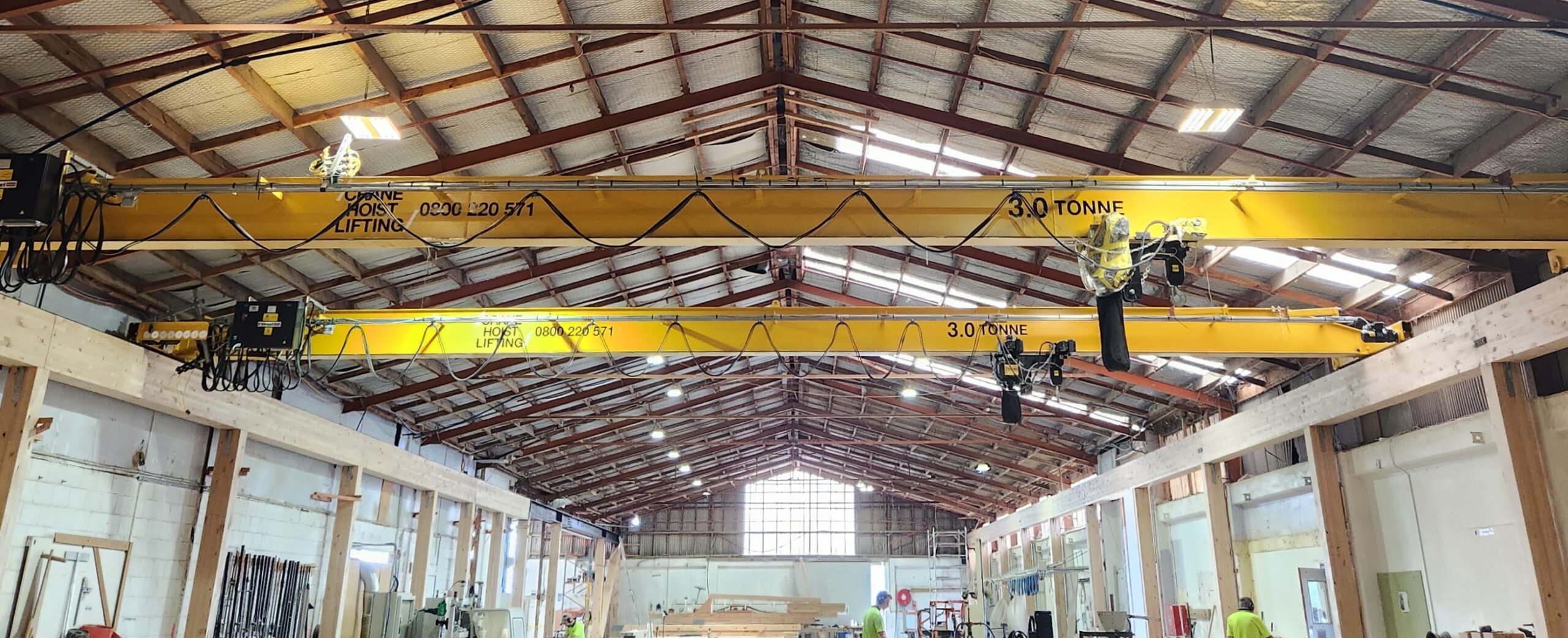 Peke Waihanga – New Zealand Artificial Limbs Service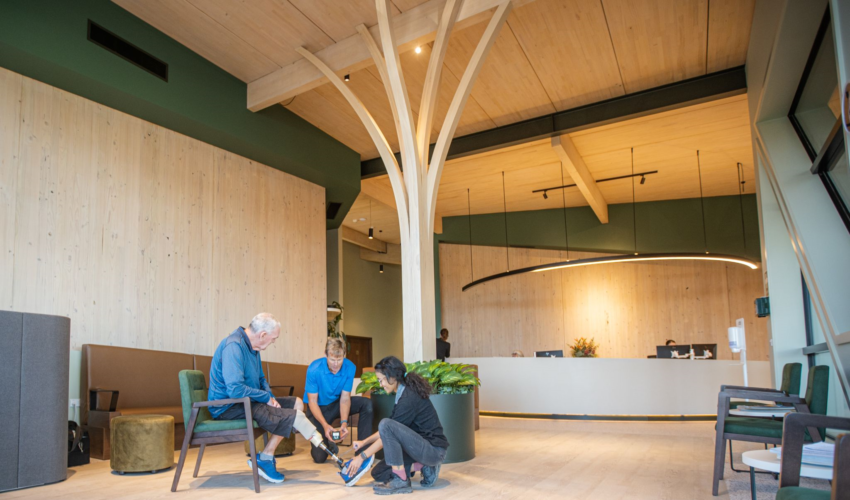 The new Artificial Limbs Centre in Christchurch is truly a mass timber work of art.
Here's Rachel Mechen & Laura Goddard from RM Designs with their take on how it all came together.
How did you get involved in the project?
"The clients approached Bernie because of our history with designing mass timber, and they were wanting something more sustainable and a bit more welcoming. The building they were working from was really old and not very user friendly so they wanted us to create something that was designed specifically around their patients."
Tell me about the design process?
"The clients gave us a pretty comprehensive brief around their requirements because it's such a specialised service they're providing. They were needing very specific sized rooms. We kind of took that document and applied it to a spacial plan, and worked up the design aspects for off-site manufacture. Biophilic design was a huge influence as well.
They instilled in us their cultural ethos at an early stage, with a big part being the story of Tané separating the mother earth and the father earth, and that became a metaphor for our patients and them overcoming the challenges they face with being an amputee or being born without a limb. That fed through into the design, which is where the tree came about. The tree kind of grew the waiting area, separating the two spaces. We originally considered flipping the tree upside down, but it presented a bit of a hazard having all the branches at floor level. The Centre is very close to Bottle Lake Forest, so connecting to that by using exposed timbers and a very green colour palette. And because the patients can sometimes be there for a whole day while they're having their limbs worked on, it makes it feel like a home away from home.
The client wanted something really welcoming and homely."
Apart from the glulam used, what other timber products are in the design?
"We've got CLT walls, from XLam and PLT ceilings from Woodspan."
How did the installation go onsite with the DFMA?
"Generally it was pretty good. There were a few coordination challenges around some trades that the clients were managing themselves – mainly some miscommunication with information not getting passed along. So a few penetrations and things that were missed. Some of the other trades weren't as up to speed with offsite design as us, which really highlighted the importance of relaying all of the information to everyone involved.
The glulam went together really well, the tree especially, for such a complex piece. The builders said it was quite straightforward for them.  The glulam worked well."
What's the most exciting thing for you about the project?
"I think the finished product and seeing it all come together. It was pretty cool when they did the blessing of the building and actually seeing patients in the space using it and getting their positive feedback.  We made the passageways ultra-wide, and there was this kid just running up and down it with a football, that was quite cool to see. It was so affirming hearing the patients saying how it was so different and so much better than the old building and that they couldn't wait to start using it."
Anything else worth adding?
"It was an interesting project in itself, getting to understand how limbs are actually made.
It was nice to work on something different, but still following the design principles that we believe in.
It's a cool building, we're very proud of it. "
Acute Mental Health Unit – Palmerston North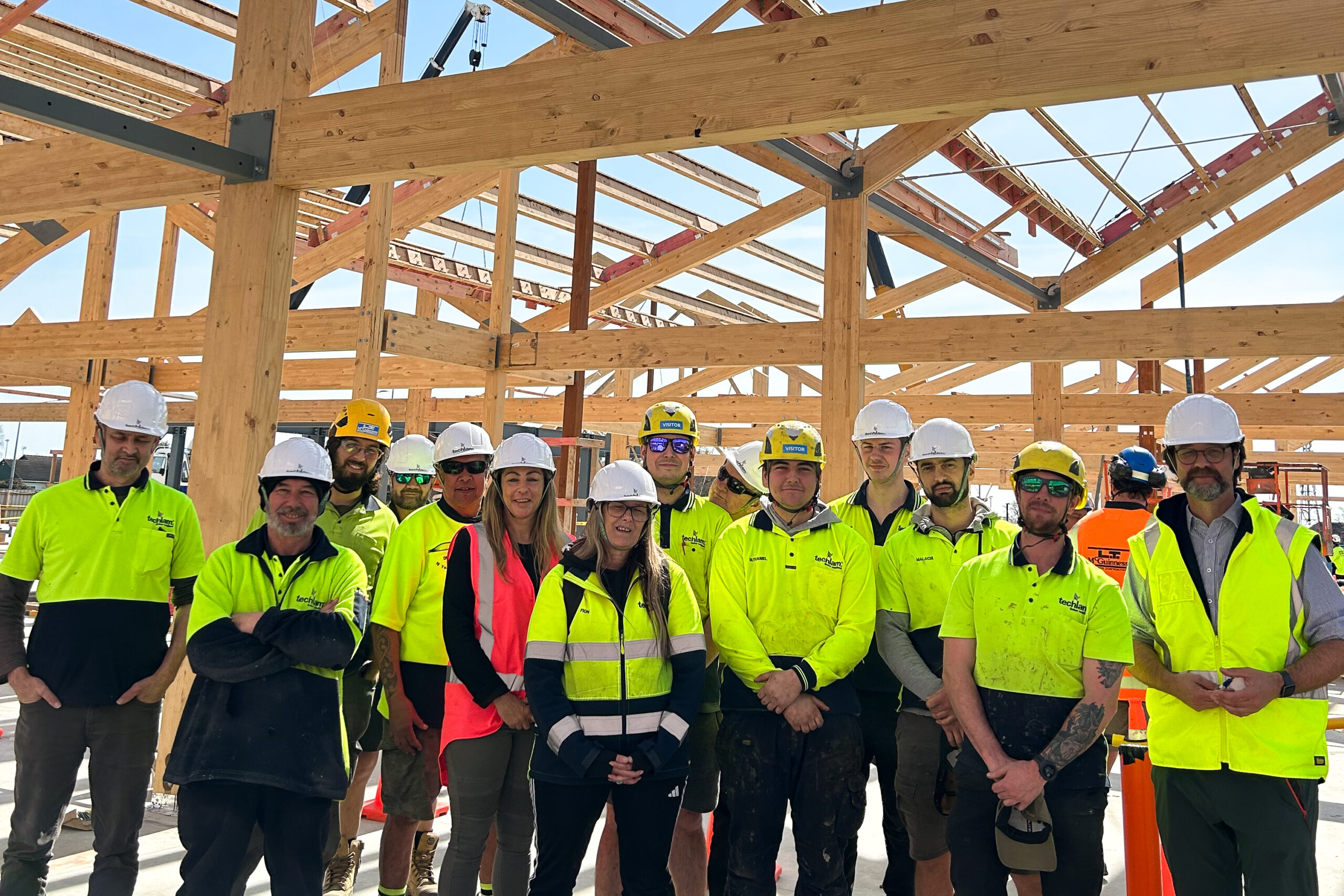 Techlam have been working on the manufacture and prefabrication of the glulam for MidCentral's new Acute Mental Health Unit. An awesome use of timber for a much needed cause.
Here's Nathan Harris, Project Manager at LT McGuiness on how it's been going so far.
How did you get involved in the project?
"We were selected by MidCentral through an RFP. At that point in time RCP had already been working with Techlam, so you guys got brought in once we were the main contractor."
How is the project tracking so far?
"Really good from our point of view. We've got one little challenge on the very last bit of glulam currently, but literally only one member and that's the last piece to go up. We're a few weeks ahead of schedule which is great.
The entry way is currently being manufactured by you guys but everything else we've got.
It's been good, a big positive is the amount of time spent upfront working through shop drawings together and on the procurement side of things. But I think for us, we've had full control, once Techlam manufactured everything and delivered it, we have full control onsite. It can go up at our pace, versus with structural steel or precast where it's always hand to mouth. We worked through the staging closely with Alistair and the team which meant we could do the whole thing in one go.
For LT's we are doing a few timber buildings. We went into last year with our first timber build, and now we've got about 8 or 9, with maybe 6 of them active and a few others in the pipeline. It's becoming more and more popular obviously. But for the team here in Palmy it was our first timber build.
There was some pretty cool stuff that Alistair, Jason and Roy made happen for us. Our team coming down to Techlam for a couple of days and seeing your facility, plus really helpful advice about installation and product care. So, on the whole it was a lot less challenging than what we thought when we first came into the job."
What makes this project unique and exciting for you?
"The timber element for me, and most of our team would say that. It's definitely a very cool looking structure and it sits out on the skyline pretty uniquely. That's probably the highlight.
Being able to deliver what will be a much needed facility at the hospital will make a pretty massive impact to the community and the hospital campus which is great."
Any other timber products used?
"Just general framing and HyJoists, but glulam has been dominant."
Any other interesting things we can add?
"I think the Techlam team has been good and for you guys to come to our site and have a look around was appreciated. Alistair has been great to work with and Roy and Jason equally.
I think timber's going to become more of a thing for us and our relationship between LT McGuiness and Techlam is going to get stronger and stronger, that's a very good thing."
Techlam Team Day 2023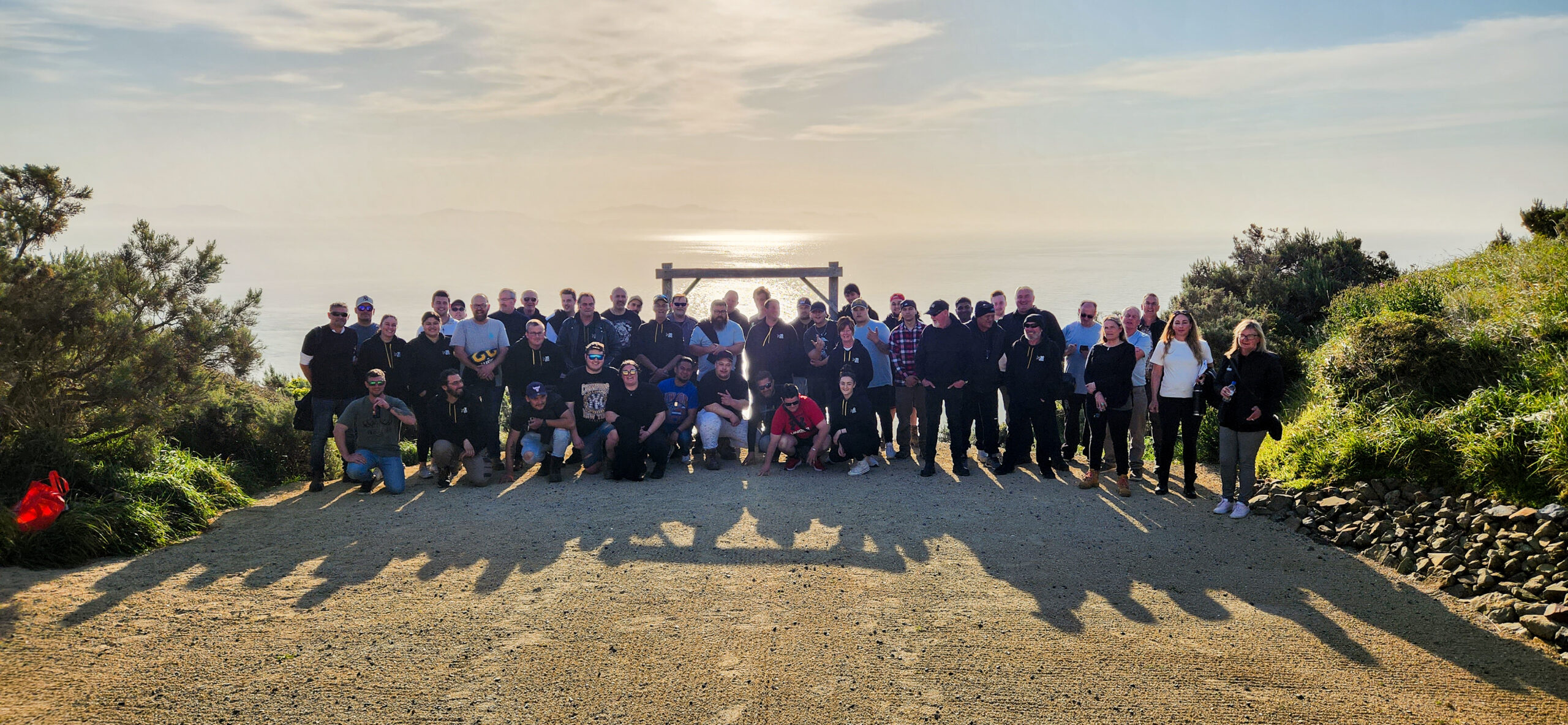 You can't beat wellington on a good day 😎
Our team recently enjoyed a full team day in the Wellington region. Starting off with site visits to a couple of projects currently in progress, and finishing off with a relaxing afternoon at the Boomrock Lodge. We all had a go at golf and clay birds, Mark was the best at claybirds and Kauia was the pro golfer!
We all enjoyed a delicious lunch put on by the Boomrock team.
Here's more from our socials.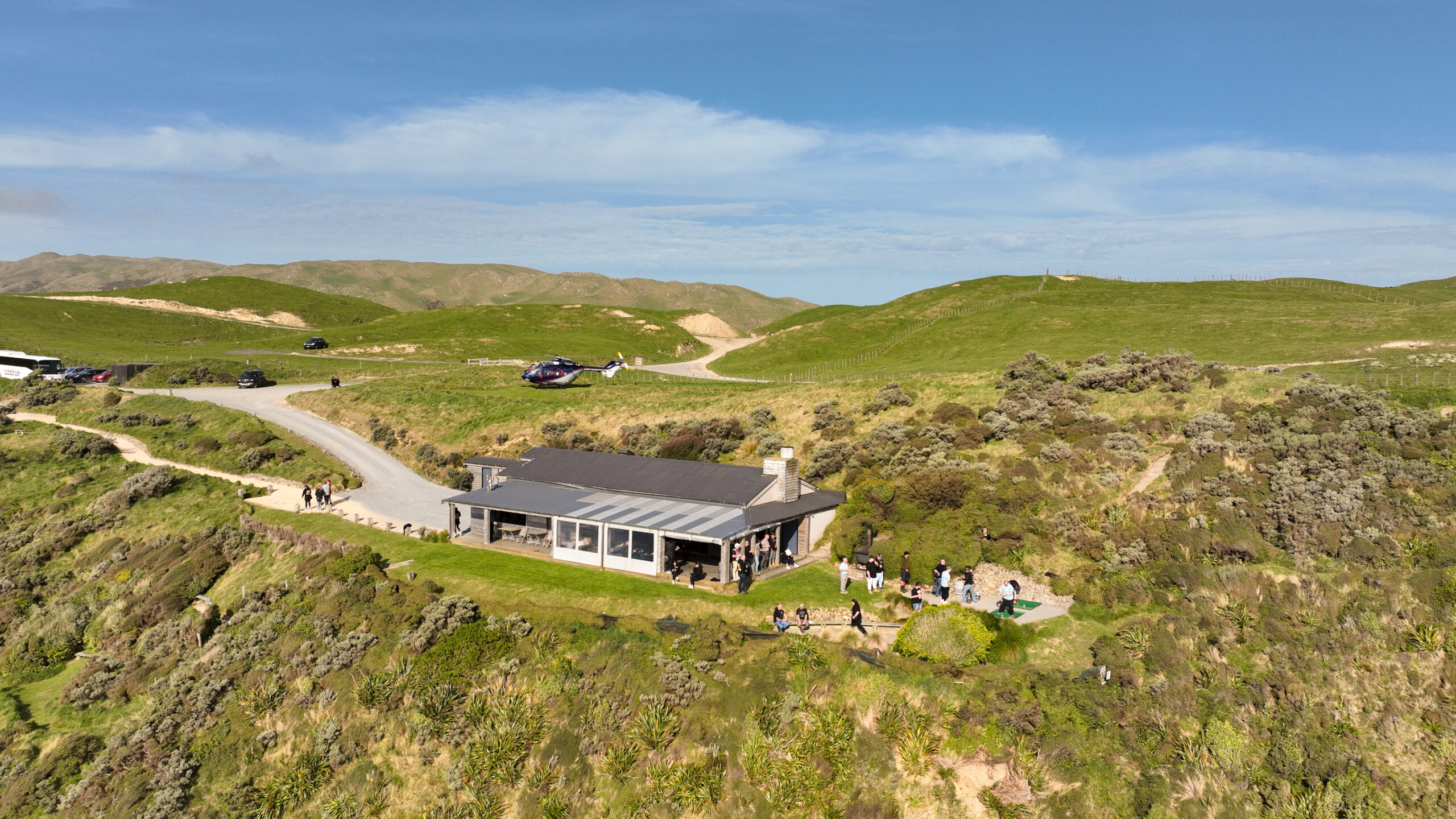 Devonport Road Mass Timber Building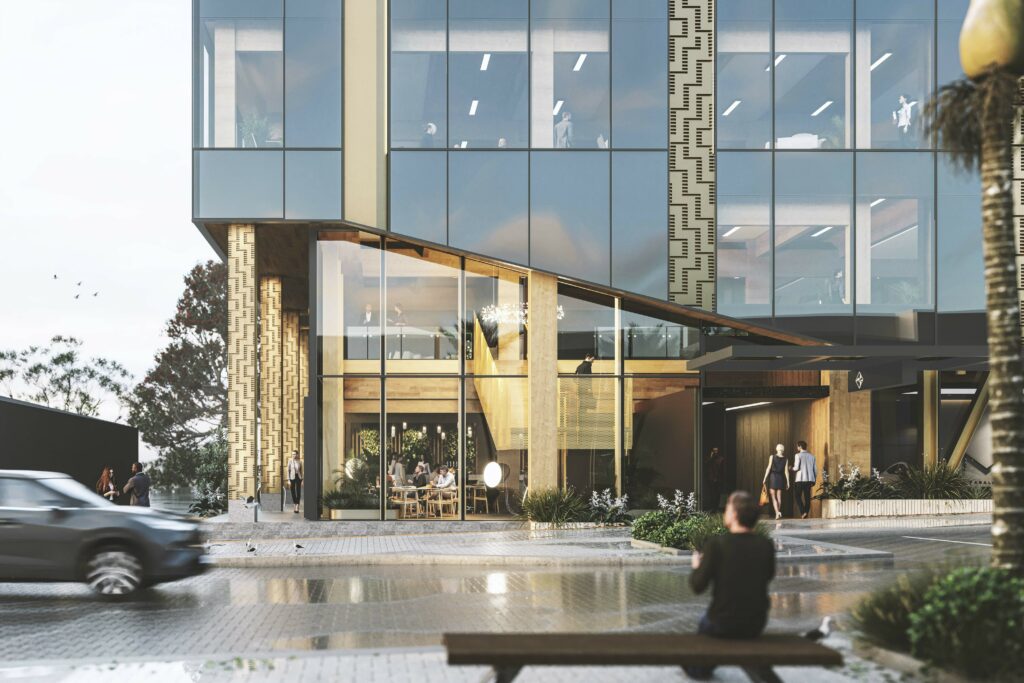 New Zealand's next 6 Star GreenStar building is currently under construction in Tauranga.
The 10,000sqm, 8-storey, mass timber office building is targeting a low embodied carbon footprint in its construction process, specifically with the use of mass engineered timber replacing traditional concrete and steel elements.
Designed by Warren & Mahoney working closely with mana whenua, this impressive building features some of the largest columns we've ever manufactured at 600mm square.
It's been awesome to see the different elements coming together onsite so far, with a few different New Zealand manufacturers supplying sustainable engineered timber products.
With the final result a genuinely low carbon building for council staff to work in, it's leading the way in mass timber construction and we're stoked to be involved!