Great news for the timber industry in NZ.
Sir Bob Jones is planning to build world's tallest wooden office tower in Wellington. Standing 52 metres tall, it is due to be completed in 2018. Wood Processors and Manufacturers Association chief executive Jon Tanner said Jones was leading the field by building a tall timber office tower in Wellington. "Sir Bob is at the leading edge of new technology and why we are really excited about it is he's leading the field in getting more engineers and designers into this whole sphere."
Some people believed timber could not stand the test of time, however, Victoria University of Wellington law school near Parliament was proof it could, Tanner said. "It is the biggest timber structure in the southern hemisphere, and that has been there for 150 years and it's survived numerous earthquakes and is still being used by the law school. "So in Wellington, now, you have an example of one of the oldest functional timber buildings in the Southern hemisphere, and then one of the tallest about to be built."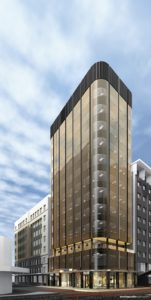 Artists impression of Jones' new wooden office tower, complete with bronze-tinted glass windows.
PHOTO: STUDIO PACIFIC ARCHITECTURE
Credits to stuff.co.nz, WPMA and Studio Pacific Architecture