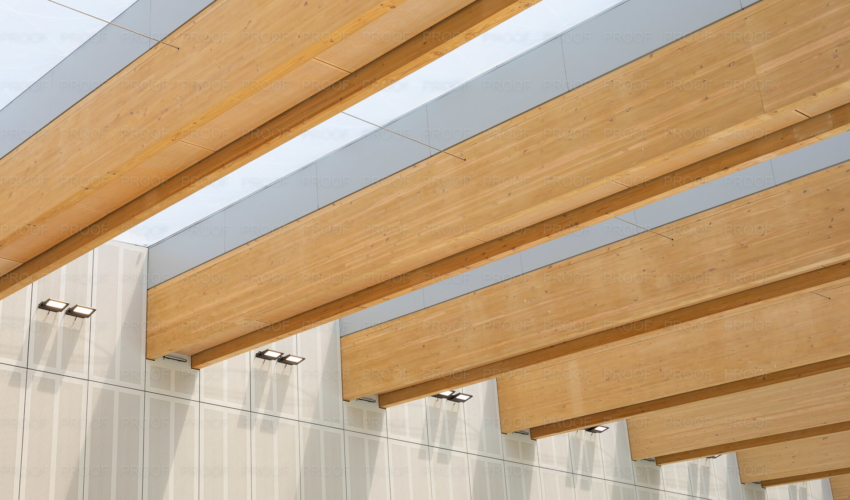 Glulam looks great as it weathers, with the timber's natural patina developing over time. However, if you want to keep it looking clean and new and stop it from aging, the following care should be taken to keep it in 'new' visual condition.
Glulam has a great reputation for it's durability and long life, and due to changes in moisture and conditions on-site, it's most important to store it correctly onsite before it's installed.
We pack our product in protective wrapping to make sure it's kept in good condition during transit. We recommend the use of webbing slings while loading and unloading to avoid damaging members. The product should be lifted on the edge it would sit in its final position.
Don't:
Drop, jarr or drag glulam
Expose to moisture
Leave uncovered during construction
Stack on the ground without dunnage
Cover with black or dark plastic
Patchy discolouration can occur if glulam is partially exposed to sunlight and moisture. Take care to ensure that no moisture is trapped inside the plastic wrapping to avoid 'sweating'.
Techlam applies a temporary coating to glulam products before they leave our plant, but because this lasts only during the construction period, to keep the glulam in good condition a fresh protective coating such as a good stain or oil is required – check our 'Coatings' download for recommended coating products.
If the plastic wrapping is to be removed and the timber exposed to the elements for a prolonged period before installation, we recommend the application of the additional protective coating at this stage to avoid accidental damage during construction.
On-site drilling or cutting creates an unprotected surface. When this occurs, the unprotected surface should be coated immediately to prevent moisture from being absorbed into the timber.
Once the product is installed ensure the good stain or oil is fully applied.
To keep your glulam products looking fresh, re-apply coating every 6 months. If the atmosphere is overly dry or moist, ensure coatings are re-applied more frequently.
Cleaning glulam is easy – scrub with warm water and a timber cleaning product. After it has dried re-apply your good stain or oil.
If mould appears – our 'Treatment & Prevention of Mould in Engineered Timber' download will explain how to keep this at bay.
Dealing with checking & cracking is explained in our 'Checking & Cracking' download.